Creating a schedule allows you to easily define when a specific rule needs to take affect during what period of time. We use time-based exceptions to empower the user to customize when existing rules should be broken. These exceptions enable you to allow things you'd typically block, or block things you'd typically allow, for predefined time periods.Note: Because of DNS caching on the browser and network, there might be delays when schedules are applied (+/- 30 minutes on the start and end times). The scheduler is limited to predefined filters.
An example of how the CleanBrowsing scheduler works:
Let's say you want to disable video games and social media between 10 pm and 7 am every day, you can do that. If you want it only to take affect during the week (Monday through Friday) and have more lenient rules on the weekends (Saturday and Sunday) that's also possible (Pro 100 + plans).
If you're an organization that wants to allow social media for your employees / students during a small block of time (e.g., 11 am and 1 pm) you can do that via the scheduler.
The CleanBrowsing scheduling feature is provided in a Basic and Advanced offering.
Basic Offering
The basic offering is restricted to the Pro-50 plan. It's features include:
2 schedules per profile
Ability to create a schedule for every day (can't select specific days)
Example: Create a schedule that stops all social media access between 10 pm and 7 am every day.
Advanced Offering
The advanced offering is available on the Pro-100 plan and higher. The scheduler offers the following features for the Pro 100+ plans:
Unlimited schedules per profile
Ability to create a schedule for specific groups of days (e.g., weekdays vs weekends)
This video provides a quick tutorial on how scheduling works:
Guide to Create a Schedule
Step 1: Choose Your Profile
Similar to other features, the scheduler is tied to a specific profile. Always be sure to be cognizant of which profile you're working in when creating a schedule.
Access the scheduler in your dashboard settings. The module can also be found in your Table of Contents (left-hand navigation) under Categories Scheduler.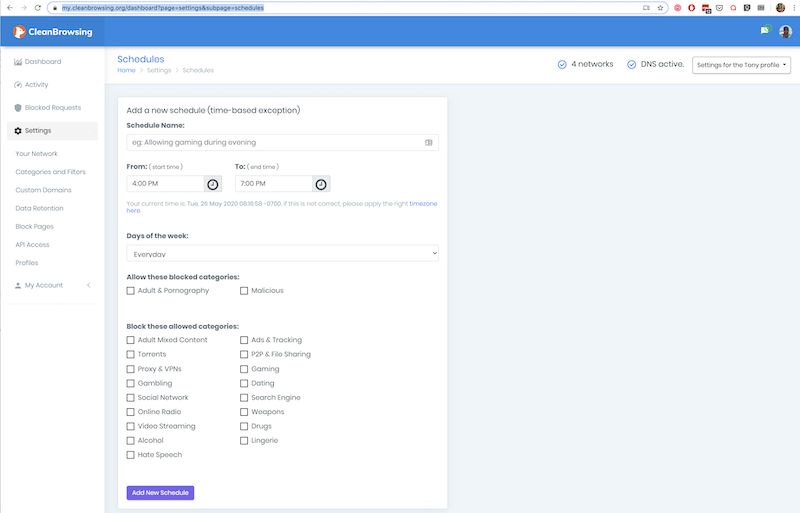 Step 2. Create a Schedule
When creating a schedule there are some things to be considerate of:
Give your schedule a name that makes sense.
Make sure to provide a good time with a start and end time.
The system will automatically identify what is allowed, and what is not allowed in the default configuration and choose what action is available.
The current implementation only allows existing filters, but we'll expose custom domains and other rules in the near future
Every schedule is tied to a profile, so you only see the schedule in it's respective profile.
Once you are done, you'll be able to see your schedules like this: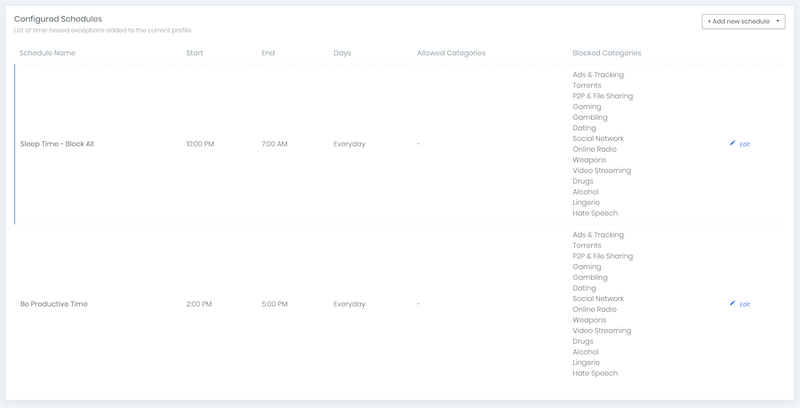 Tech talk: CleanBrowsing is a DNS-based filter, this means it can take time depending on the network, and devices being used. We typically update our DNS within 15 / 20 minutes, but then devices have to update as well. A lot of device employ deep caching to help improve their users experience, which means you might experience longer delays as those caches clear. One of the fastest ways to force a change on any device is to reboot, this will clear the local cache state. You should assume a + / – 30 minute delay on, both, the start and end times.